DOWNLOAD YOUR FREE COPY OF OUR BURNOUT GUIDE
Burnout is a workplace issue; it's not just in your head.
Are you exhausted, struggling or not quite able to get going? Are you unsure if you are?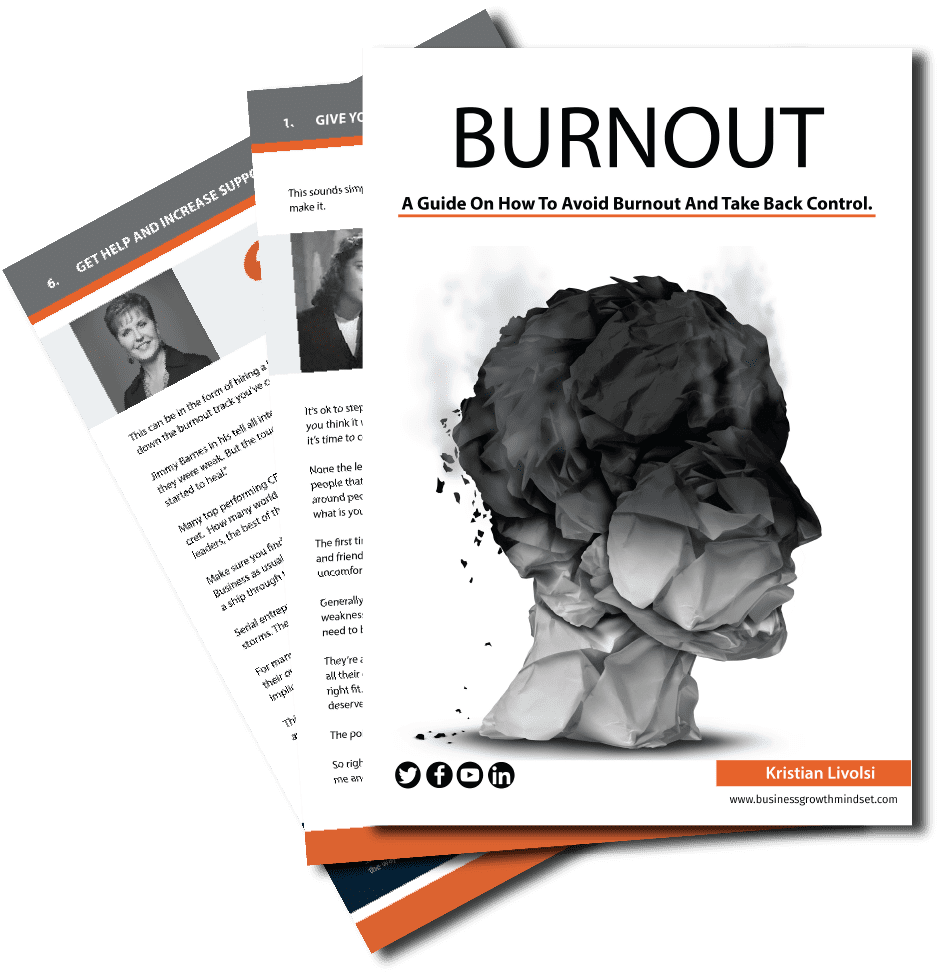 Burnout is a workplace issue; it's not just in your head.
Many CEOs and business owners find it hard to speak about the invisible pain points of burnout, exhaustion and fatigue. Some have lost interest in what they are supposed to be doing, many are overwhelmed with their workload, and they are disengaged with leading. They are tired, ambivalent, stressed, cynical and overextended, does this sound familiar?
Emotional exhaustion and the mental load can be fought by decreasing demands, increasing support and taking back control.
In this guide, we share with you the exact same process we have used to help hundreds of business owners and executives grow and flourish.
Your advice concerning business development strategies, marketing strategies, overcoming export issues, and following customer communications, have been truly 'eye-opening' and hugely valuable.
He is always ready to listen with empathy, to talk through anything. I always feel able to speak my mind with Kristian and walk away from any meeting with him feeling empowered, and able to do anything.
His knowledge and the way he shares it with us openly is priceless and one of the most important secret assets of NumuWorld.
SA Young Achiever of the Year 2018 Rarely have I had the opportunity to work with someone as gifted as Kristian. Kristian is wise and trustworthy, passionate about helping entrepreneurs overcome hardship that he has himself experienced.
Kristian Livolsi is a serial entrepreneur, growth advisor and business coach who has a strategic and performance-focused approach with rich experience in business.
As an entrepreneur, he has been involved with 77 companies, as an advisor and coach he has worked with more than 500 businesses, and consulted in 18 countries.
Kristian has experienced resounding success as well as catastrophic failure. He endured a long journey of self-discovery and recovery which lead to a shift in mindset that enabled him to refine his purpose and align himself with his destiny.
Kristian's ability to solve complex problems, disrupt established ecosystems and create solutions that are sustainable and profitable set him apart.
Kristian Livolsi was awarded the title Adjunct Professor and was appointed the inaugural Entrepreneur in Residence at ThincLab, at the University of Adelaide. During his term, ThincLab was applauded for its "rapid growth" and "scale", with 66 starts-ups generating $189,000,000 in funding.
He has a Master of Business Administration and was awarded membership to the Golden Key International Honour Society for outstanding academic achievement.
Kristian's diverse experience across many industries and different countries provides him a perspective others don't have.  This perspective empowers his clients to become the very best versions of themselves because he focuses on you, so you can focus on your team and your business.
Hear how Krisitan's clients have utilised his advice to win!
Lorem Ipsum is simply dummy text of the printing and typesetting industry. Lorem Ipsum has been the industry's standard dummy text ever since the 1500s,
"We say the following with absolute confidence: without Kristian's involvement, our company would look very different than it does today, and indeed might not even exist at all. We have nothing but the utmost respect for him, and offer this reference as a testament to the fact that he will add enormous value to whatever endeavour he is involved in. We look forward to his continued involvement in ByGen, and are excited to have him on the journey with us." Lewis Dunnigan (CEO & Co-Founder, ByGen) and Benjamin Morton (Director & Co-Founder, ByGen
Claire Crowley, Good Scout Travel, NVI Gold Winner and eChallange Winner "We came to Kristian with not much more than a deep understanding of our problem and he was able to guide us through testing business models to work out 'how' to solve our problem. It was really helpful to draw upon his vast array of business experience, he filled us with confidence to keep chasing our goal and not be deterred as we hit any roadblocks. In particular he helped us understand that this is how most businesses start and that being authentic and sticking to our values will pay off in the long run. We are really grateful to have Kristian as our mentor in these early stages of our business."
"If your willing to go on the journey
… he is transformational"
"If someone was considering working with Kristan I would say just do it … the results are there"
"His biggest skill is able to work out what your weaknesses and strengths are"